News
1/3/2007 - Upcoming gig at the Townmill, Mansfield
Blimey its come around quick! Alcohol are frantically getting ready for the gig at the mill on Friday 9th March, there will be costumes, guests, new songs/old songs and hopefully a bit of a party atmosphere! PAM and Flying Blind On A Rocket Cycle join the boys for a gig thats going to be hard to top!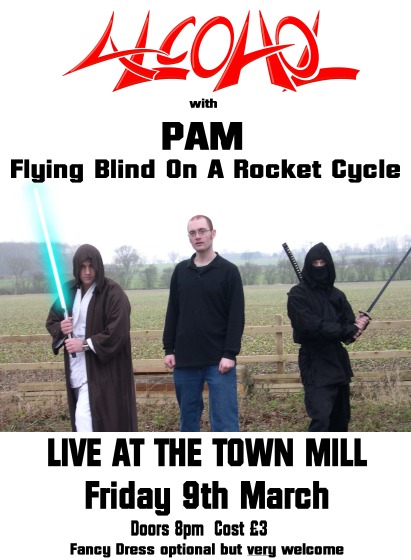 10/1/2007 - 2007! What's Been Happening?
Well, its a new year!

Sorry for the lack of updates over the past couple of months but its been quite a busy period and we're gearing up to having quite a busy couple of months.

So whats been happening?

We have now finished the DVD for "Is it real?", this will be available soon through our website. The DVD is a PAL DVD-R and should work on most DVD players. It contains the video for "Is it real?", the outtakes and a hour long "making of" style video diary.

We're also started booking out of town gigs, if you would like us to play near you then please suggest a venue and if possible get them to get in touch with us!

Ok, so whats happening in the month of January?

Tony's been locked away writing songs for the past couple of weeks which the band are going to be recording on the 27/28th of January. The CD will feature guest appearences which will include the vocals of Karley Otter and the keyboard skills of Mark Page (from local band Photobooth). Tony's still working on finishing the songs off but song titles include "Bring Me Round", "I", "Condition" and the bizarre "Wooden Teeth".

The band start rehearsing this week for the upcoming gigs and the recording so its a massively busy time for them! There's also a couple of big birthdays coming up for us - so there'll be some partying as well!!!!

.....and oh yeah - Happy New Year! How are you all??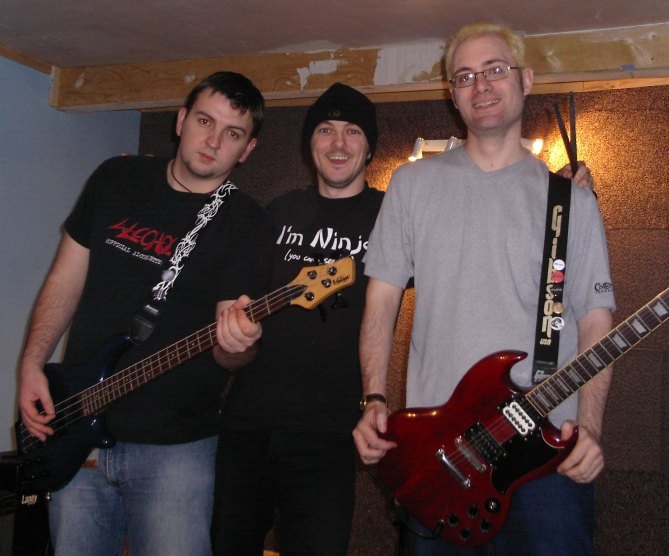 Alcohol
(Tony Hearn, Stephen Cripwell and Cory Bettison)
26/10/2006 - New Video Finished!
After many months of not so intensive work, part one of the music video trilogy is now finished and available!
Check it out now here! Let us know what you think!
11/9/2006 - What The Hells Going On?
Hello people!
It's been a lazy couple of months for Alcohol, we've kinda had a summer break. The band had a meeting last friday to get everything back on track and you should start seeing some news over the next couple of months. Thanks for sticking with us and we'll be gigging again real soon, in fact we've already got one gig confirmed on the 28th September at the Intake club with PAM.
We've got a long way to go and a short time to get there, see you very soon.
Alcohol
Tony Hearn, Stephen Cripwell and Cory Bettison
26/4/2006 - Alcohol Interview
Alcohol were interviewed for Shock n Awe today before Alcohol's appearance at the upcoming Shock n Awe gig at the Town Mill on May 11th.
You can find the Shock n Awe site at http://www.shock-awe.co.uk, the direct link to the interview is here.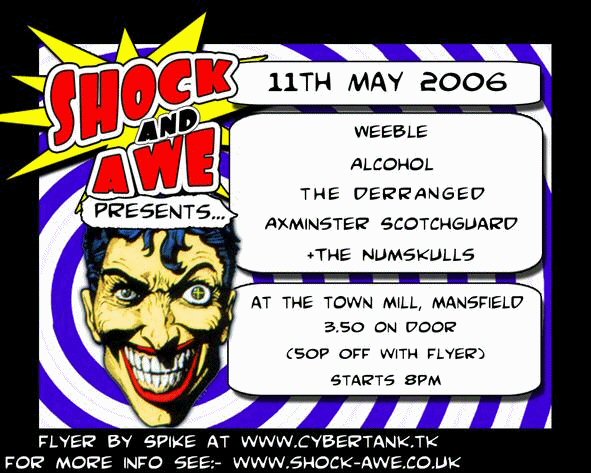 14/4/2006 - Part 1 Nearly Finished Filming
Alcohol filmed more of their music video today, check the Production Diary for more details and pics!
7/2/2006 - Production Begins On Video Trilogy
This weekend saw the first day of filming for Alcohol's new music video, which will actually be Part 1 in a trilogy of videos.
Here is the first image from the video in the form of a teaser poster!
29/1/2006 - New Music Video!
Whilst preparing for their next music video project, Alcohol have put together a video for their song "Hard To Take". Check it out here!, or visit the videos section of the site.
Thanks to Cory for doing all the hard work!
1/1/2006 - Happy New Year!
Bloody hell its 2006.
Well as the hangovers subside we put our thoughts into whats happening this year, and my list of resolutions is growing exponentially. Quite worrying really, but things are going to be good this year.... i can feel it.
January 14th sees the third recording session for our as yet untitled album, which will be our first album (we did record an album quite a few years ago but never technically finished it). The songs we will be recording in this third and final session (unless we need to re-record a few extra things) are....
Is It Real?
Something's Gotta Give
Drowning
I Listen To My Heart Too Much
These will add to our current recordings list of:
I'm Alone
Break Down
Love Drug
I'm Free (Run Around)
Claire 2
I'm In Pain
Hard To Take
Be
Hate & Hate
T & A
You're With Me
From these songs we'll choose about 12 and make the album, which should be here this summer.
Also we will hopefully then do a few gigs around the UK to promote the album and theres even talk of a gig in Chicago (USA) but thats still at the planning stage.
Hope everyone is well and having a good 2006!

Alcohol - Tony Hearn, Stephen Cripwell and Cory Bettison
28/12/2005 - Tony The Chav?
Yesterday Alcohol guitarist Tony joined local punk covers band Chavril Levigne on short notice as their lead guitarist left the band on the day of their gig at the Town Mill, Tony got to practice with the band for 45 minutes before playing a gig with them last night at Block Party 5 - we think he managed to look like he knew what he was doing... just!
The band only do 4 or 5 gigs a year so don't worry we'll still have the Alcohol album in 2006.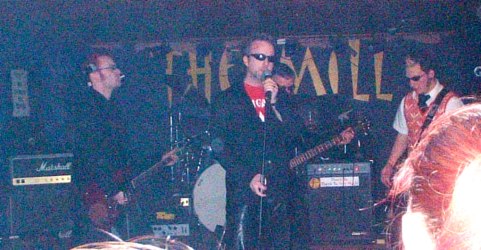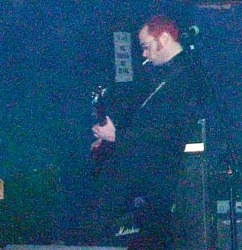 18/12/2005 - Merry Christmas!
Alcohol are now taking their well deserved christmas break. Over the next couple of weeks the boys will be enjoying christmas with their families and will also be found partying at Block Party 5 at the Town Mill on the 27th December. The boys will use this as their official Alcohol christmas party which provides them with an easy excuse for getting very very drunk.
After christmas the boys have booked themselves back in the studio for their 3rd session for their album. This should see the completion of the album which will finally get released next year - the track listing is still being decided and Tony still has to finish some lyrics (!).
MERRY CHRISTMAS!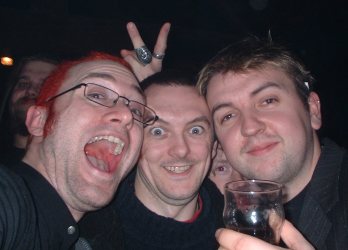 Alcohol - Tony Hearn, Cory Bettison and Stephen Cripwell
12/12/2005 - Alcohol Gig THIS FRIDAY!
Alcohol will be playing their last gig before the christmas break at the famous Boat Club venue in Nottingham this friday the 16th December. The band will be playing alongside The Dead Souls, Hinterland and Dirty Protest. It should be a great night and would be cool to see everyone down there!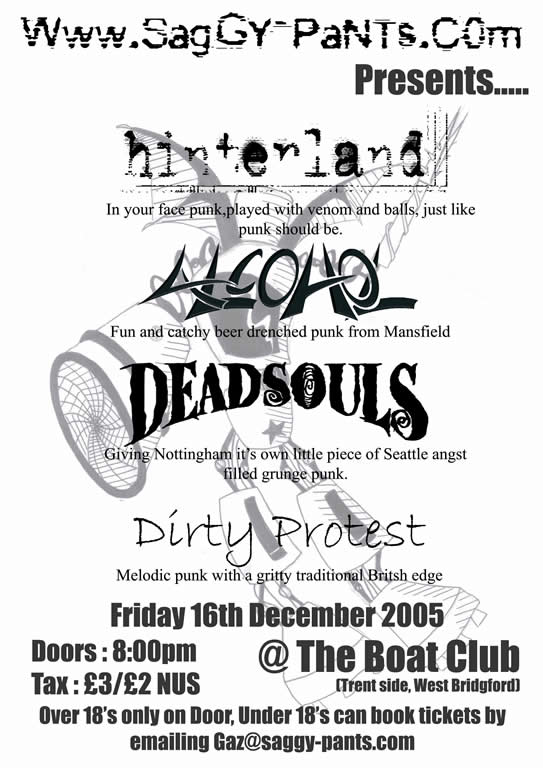 26/10/2005 - Music Video
As mentioned previously - Alcohol are working on a new music video. They are still in pre production at the moment and working on storyboards etc, but the boys need some extras to help out.
So if you want to be involved then email Tony (click here) and we'll be in touch!
9/10/2005 - What has Alcohol been up to?
Its been a while since the last update so we thought we'd bring you back up to speed in whats been happening in the Alcohol camp these past couple of months.
New Songs
After a couple of gigs back in early September, the band took time out to work on some new songs that they'd been writing, there are five new songs currently being worked on, the working titles are Song 1 (Somethings gotta give), Song 2 (untitled), Song 3 (Drowning), Song 4 (Why?) and Song 5 (I Listen To My Heart Too Much). Listen out for them at upcoming gigs!
Music Video
The band has started pre production on a new music video, the guys are keeping the details under wraps for now but lets hope its not another three years in the making!!!
Upcoming Gigs
Currently there are 2 confirmed gigs over the next couple of months, there are a few others to be confirmed.
The first is back at the Town Mill on the 21st October (Friday night), this is a film premiere of 20,000 little reasons which features a track by Photobooth who organised this event and will also be performing.
The second gig is at the famous Boat Club in Nottingham which has seen such great bands as Black Sabbath and Led Zep play, Alcohol will play there on the 16th December with Dead Souls, Hinterland and Dirty Protest in a Saggy-Pants organised night.
Punk & Disorderly Radio
Tony can still be heard every week on Paul B Edwards "Punk & Disorderly" radio show on Mansfield 103.2 FM. The show now goes out live on Mondays 9pm till Midight and Tony is there throughout the whole show.
20/8/2005 - Sun, Sea, Sand and.... Dancing Pirates?
Today saw alcohol's first gig back since June, and a cracking day was had by all. You can't beat a set list which ends with dancing pirates!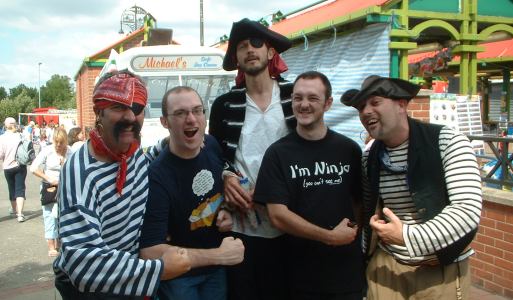 17/8/2005 - T & A Played On Punky!
Paul B Edwards and Tony Hearn do a weekly podcast show, and this week the Alcohol track T & A was played, you can download the show from the Punky! website HERE.
12/8/2005 - Tony Acoustic Gig Tonight!
Tony from Alcohol will be performing a solo acoustic set tonight at the Town Mill, Mansfield. We'd love to see you all down there!
6/8/2005 - Ste's Back!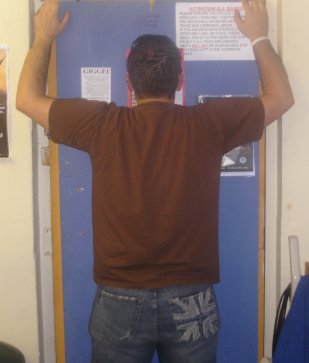 Yep - Ste is back and that means Alcohol gigs are a-coming. Check the gig section for a list of gigs already booked - its looking to be a busy few months for the Alcohol boys!
Also mixing is now complete on Alcohol's next EP - more news soon, but expect it to be available at upcoming gigs.
21/7/2005 - Alcohol Update
Hello everyone!
Alcohol are currently preparing for the return of bassist Ste who is returning to the band in august, and the band hope to resume gigging in september. Alcohol are currently working on a few new songs which they hope to debut soon.
In the meantime we have added a couple of new songs to the sounds section. The first "Hate & Hate" is a song off their upcoming as yet untitled EP. The second is an acoustic version of another song from the upcoming EP "You're With Me" taken from the boys appearance on Mansfield 103.2s Unsigned show.
8/7/2005 - Tony On The Radio Every Week
Alcohol front man Tony Hearn can now be heard every week on Mansfield 103.2 on Paul B Edwards Punk & Disorderly show. The show goes out from 10pm every Thursday night, Tony will be doing the gig diary section of the show.
1/7/2005 - New Alcoholette - Miss Emily Cripwell Born Today
In the early hours of this morning Alcohol bassist Ste's wife Sally gave birth to their first child Emily, congratulations from us all!
UPDATE: Pictures!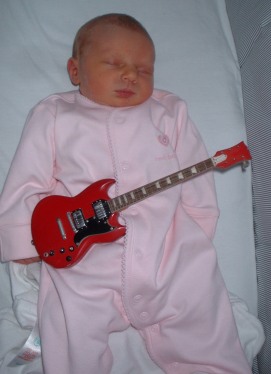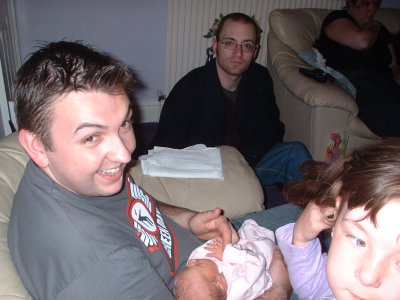 Alcohol
11/6/2005 - Alcohol - We'll Be Back
Last nights gig at the Town Mill (sorry there was no notice on the site about the gig - but the boys were a last minute replacement) was the last Alcohol gig for a while.
Alcohol bassist Ste is taking a break as he and his lovely wife Sally are expecting their first child any time now. Alcohol will be back after the summer with gigs and recordings.
We'll still bring you any Alcohol related news here at AlcoholRock.com - thanks for your support and we'll see you soon!
Tony, Ste and Cory - Alcohol.
1/6/2005 - Frog Gig Off
This Saturdays gig at the Frog & Nightgown will not be taking place, hopefully we'll be able to reschedule it. More information when we have it!
29/5/2005 - Alcohol gigs
Tonight is the Block Party 3 gig at the Town Mill, if you can make it down - the boys are in the party mood! Next week also sees possibly the last Alcohol gig for a few months at the Frog & Nightgown with Abiotic.
Ste from Alcohol is taking a few months off as he and his wife Sally are expecting their first child, so after these next couple of gigs you won't be able to catch Alcohol play live until after the summer.
26/5/2005 - Alcohol on Punk & Disorderly
Alcohol will be on Punk & Disorderly tonight talking about the recent recordings and the upcoming Block Party 3 gig.
4/5/2005 - New Alcohol Song On The Radio
Tonight Tony from Alcohol will be on Mansfield 103.2s Punk & Disorderly show standing in for Leon. Tony will be playing a track from the bands recent Unit 5 recording - the track will be "Hard To Take".
23/4/2005 - Alcohol In The Studio
Today Alcohol went back into the studio to record more tracks at Unit 5, tracks included Be, T & A, Hate & Hate, You're With Me and Hard To Take.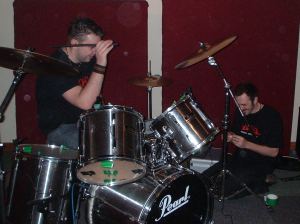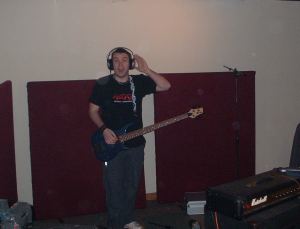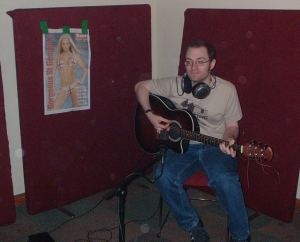 18/4/2005 - Unsigned - Alcohol
Alcohol appeared on Mansfield 103.2's Unsigned show tonight - the boys were on good form and had a great time.
11/4/2005 - Another Alcohol Radio Appearence
On Monday the 18th April Alcohol will appear on Mansfield 103.2's Unsigned show, which is a show dedicated purely to local unsigned bands. Alcohol should feature on the whole show and it will feature tracks of their current Alone EP, chat, influences and an acoustic version of one of their songs. Tune in from 10pm.
10/4/2005 - Alcohol play Festival Hall BOTB
Alcohol finally ticked off one of the long standing items on their to do list when today they finally got to play at the Festival Hall, Kirkby (home town of Tony & Cory). Apparently they just have to sleep with Drew Barrymore, win the lottery and lie in a bath of baked beans and thats the list sorted. Here's hoping eh?
28/3/2005 - Alcohol play MILLFEST
Today Alcohol opened up the third day in the Town Mills Easterfest which saw some 20-something bands play over the easter weekend. Alcohol were proud to be a part of this event and it looks like it was a total success!
24/3/2005 - Radio Appearance
Tony from Alcohol appeared tonight on Radio Mansfield's Punk & Disorderly show to plug the upcoming Millfest event alongside Andy from the excellent Diver.
14/3/2005 - Tony Joins GIGGED
For a while now Alcohol have been involved in the local band scene working with Elevation. Things seemed to have come to a head at Elevation and the website has dissappeared without trace. Tony from Alcohol and Kev from Ravenscroft have joined forces with Leon from GIGGED to provide a forum service and help with the Mansfield/Nottingham scene.
Just to let all the Alcoholettes know - this won't affect Alcohol in anyway, Tony is 100% dedicated to the band and his work with GIGGED should benefit all local bands including Alcohol.
Currently the forum can be found at here, but will soon be part of the web site.
1/3/2005 - Alcohol GIGGED Demo Of The Month
Alcohol's Alone EP was put up for public vote in February against Photobooth and The Deltarays on the GIGGED website and they won!
26/2/2005 - Tony In Acoustic Shock!
Tony from Alcohol today played guitar for local singer/songwriter Karley Otter in her first ever gig, Tony also played an acoustic version of the Alcohol song "You're With Me".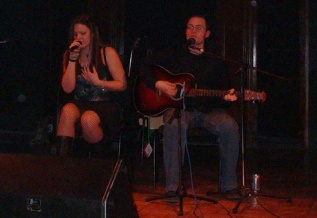 24/2/2005 - New Merchandise Section
Alcohol today opened up their own merchandise section currently featuring T Shirts and CDs, all these will be available from Alcohol gigs!
11/2/2005 - Local Charity Gig Success
Today Ste from Alcohol put on a local charity gig in Mansfield. The night included an open mike section, karaoke and a raffle, and the night earned a fantastic £1,500 for the charity! Well done Ste!
4/2/2005 - Charity Single
Tony and Ste from Alcohol helped record a charity single today with others from the local music scene including members from Abiotic, Starscreen, Project Marv, Bridal Fury, Ravenscroft, Photobooth and local singer/song writer Karley Otter. All proceeds from the single will go to the tsunami appeal, more information about the single when it is released!
30/1/2005 - Website Gets A Revamp
The new look Alcohol website went live today, we hope you like the new look and feel, we will be adding more stuff as and when its finished so you will hopefully see more changes over the next couple of weeks!
2/1/2005 - Happy New Year!
Just a quick Happy New Year to everyone! Lets make 2005 a successful year for Alcohol and the local music scene! Alcohol are currently practising for their upcoming gigs this weekend, and there will be some new songs coming.
28/12/2004 - Tony to appear on Punk & Disorderly this week
Alcohol guitarist Tony will appear on this weeks Punk & Disorderly show on Thursday night on Radio Mansfield 103.2. He will be amongst other special guests during the whole show, tune in as it should be a good laugh!
27/12/2004 - Tony DJs at Punk & Disorderly block party 2
Today Alcohol guitarist Tony was one of the guest DJs at the Punk & Disorderly block party 2, along with Pete from Monkeyfist and Kev from Big Green Sofa (RIP). A good night was had by all and we were all completely pissed by the end of the night!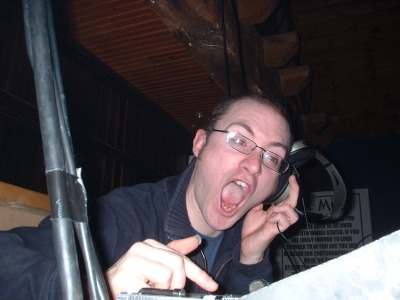 16/12/2004 - Alcohol 4th in the Band Of The Year Final
Alcohol came 4th in the Band of the year final tonight, first prize went to The Reckoning. Our review will be posted in the next couple of days.
16/12/2004 - Alcohol play the Band Of The Year Final - TODAY!
Alcohol play in the final of Mansfield 103's Band Of The Year competition at The Ritz in Clipstone. The final will be broadcast between 7pm and 11pm including the result! Alcohol aren't sure whether or not it will be constant coverage or just snippets every-so-often but tune in if you can! Hopefully Alcoholrock.com will be able to bring you the recordings in MP3 over the next few days! We will be updating the site again after the final to give you the result!
15/12/2004 - Tony to be a DJ at upcoming Punk & Disorderly Block Party!
It was confirmed today that Tony will be one of the guest DJs at the upcoming Punk & Disorderly Block Party to be held at the Town Mill on the 27th December. There will be three bands (Diver, Wagstaffe and The Chavs) and four DJs - all for the bargain price of £4. Come on down to the town mill and enjoy the show!
6/12/2004 - Alcohol through to Band Of The Year FINAL!
The public voted today on the semi final and Alcohol went through to the final of the Mansfield 103 Band Of The Year competition! Thanks to everyone who voted for us and see you all on the 16th December for the final which will be broadcast live on Mansfield 103.2 FM!
29/11/2004 - Semi Finals drawn
The Semi Finals for the Ritz Band Of The Year (in association with Mansfield 103.2) have been drawn and Alcohol are playing this week! Thursday 2nd December. Come along if you can, a song will be broadcast the following monday for public vote to put the band through to the final... will we win? Find out by listening to Mansfield 103.2 monday afternoons from 2pm.
28/10/2004 - Alcohol interviewed on Punk & Disorderly
Alcohol appeared on Paul B Edwards Punk & Disorderly show on Radio Mansfield. The interview is available online on our sounds page here. Thanks to Paul B for letting us on!!
18/10/2004 - Alcohol to appear on Punk & Disorderly radio show
Alcohol will appear on Mansfield FMs Punk & Disorderly show on the 28th October. If you have any questions for the band please email them to Paul on [email protected] and they may get answered on air.
13/10/2004 - Tony interviewed on Mansfield 103.2
Alcohol guitarist Tony Hearn was interviewed today on Mansfield 103 in response to Alcohol's victory in their "Band Of The Year" heat. The interview was broadcast in segments in the news with a different segment each hour.
"We don't really care if we win as long as people carry on listening to real music by real bands." - Tony
11/10/2004 - Alcohol progress to the "Band of the year" semi-finals
The first heat of the "Band Of The Year" competition was put to public vote today on local station Mansfield 103.2 FM, their song "Hate & Hate" was played. Alcohol won! Thanks to everyone who voted and see you in the semi finals.
07/10/2004 - Alcohol play the battle of the year heat one
Alcohol played at The Ritz Music Bars "Band Of The Year" competition, one song from the bands set will be played on Mansfield 103 on Monday the 11th October on Ian Watkins afternoon show. Please tune in and vote for the song YOU think is best!!! You can listen online at Mansfield 103.co.uk, see gig section for gig review!
26/9/2004 - Alcohol play the battle of the bands, again!
Alcohol played in this weeks Battle Of The Bands at Mansfield Town Mill. They didn't progress to the next round, but the excellent bands PhotoBooth and Joshua's Tuma did - so best of luck to them!
19/9/2004 - Alcohol's first ever music video online
After three years (ish) hard work the bands first ever music video is now online here. Caution not suitable for children.
19/9/2004 - Alcohol headline local event
Alcohol headlined last nights Workpeoples Inn Outdoor Festival which was a charity gig on the back of a truck! This also marked Alcohols fourth gig this year, which is the most gigs Alcohol have ever performed in one year, making 2004 our best yet - thanks to everyone who has come to see us so far this year and making it a very special year for Alcohol!
Alcohol's next gig is their battle of the bands heat at The Town Mill (Mansfield) on Sunday 26th September.
19/8/2004 - Gig News
Two gigs confirmed this week. First one is 30th August at the mill, second one is us back at the battle of the bands (again at the mill) and the date is 26th September. More details in the gig section.

Alcohol
29/7/2004 - Blidworth gig cancelled
This weekends Farewell to the forest gig has been cancelled due to expected violence at the weekend. The closed a couple of days early as advised by the police. This gig may be rescheduled for another time and place - if so we'll let you know!

Thanks again to Kev from Big Green Sofa for sorting all this out!

Alcohol
18/7/2004 - Back In The Studio
Alcohol hit the studio yesterday and laid down the basic tracks for 6 songs (I'm Alove, Love Drug, I'm In Pain, I'm Free (Run Around), Break Down and Claire 2). Alcohol are currently working on finishing these recordings and mixing them.
The current plan is to re-record any necessary tracks at Tony's house and Alcohol will mix the records themselves, if this gives good results then Alcohol will go back in and record some more to complete an album.
Alcohol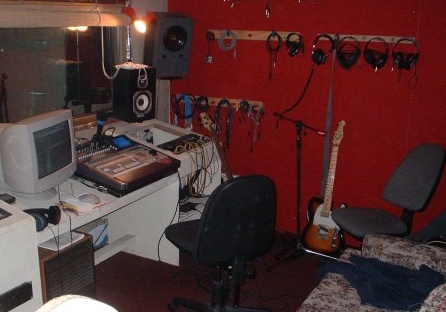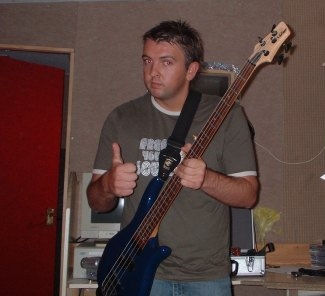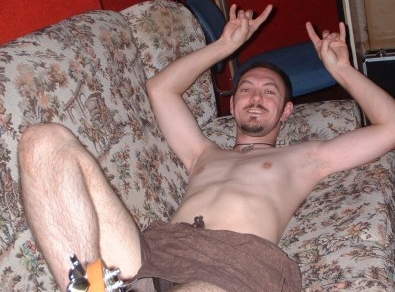 4/7/2004 - Gig Update
Some more gig news. The acoustic gig on July 10th is now definate. Alcohol will be opening the night, Tony on acoustic guitar, Stephen on acoustic bass and Cory on percussion - the set will be between 20 and 25 minutes long, also playing are local bands Hearing Colour and Starscreen. Entry fee is £3 and its at the old library, expected to start about 7.00 to 7.30ish. Tickets available from the band - but payment on the door will be fine!
Also to be confirmed is a gig in Blidworth at the Forest Folk with local bands Big Green Sofa, PhotoBooth, Area 15 and more. This gig will be on the 31st July, more details to follow. Thanks to Kev from BGS for sorting this gig out!
Thats all for now people!

Alcohol
10/6/2004 - Summer starts
Hi everyone. Well as you all know Alcohol are taking June off for various reasons - see below news post. Alcohol have however already started planning their summer.
July 3rd will see the band resume rehersals.
July 10th the band will be playing in an all acoustic gig at the old library in Mansfield, more information when it becomes available.
July 17th will also see Alcohol go back into the studio for a full days recording. The track list hasn't been decided yet, but the plan currently is to record the tracks at Unit 5 studios and then Alcohol will mix the tracks down themselves - and rerecord any tracks at Tony's house. If this experiment works then Alcohol may go back into the studio pretty soon after this date to record an album - but this is all just speculation.
August will see the start of the Mill's Battle Of The Bands which Alcohol should be playing at - although the gig dates haven't been announced yet.
Also next week Alcohol will finally receive a copy of the acoustic track "I'm In Pain" that they recorded on May 8th 2004 at Bandwagon studios - Alcohol have yet to hear the completed track, if its any good we will post it on the site for download.

Alcohol
26/5/2004 - RUMOUR CONTROL - Alcohol's Drummer
Due to persistant rumours and heresay, Alcohol have decided to inform everyone here of the current situation with Cory Bettison's health - Alcohol's drummer. Cory is due back in hospital on the 4th June 2004 for an operation, here are the answers to your questions.
1. Is it true that Cory is going to a special hospital for a certain operation that claims to increase the err horselike nature of a certain part of his anatomy?
Eh? Oh right I see - no no the operation is above the shoulders.

2. Come on - another operation, isn't it about time you guys stopped pretending, he's going for the last sex change op isn't he - the CHOP?
What is the obsession with Corys... See answer to number one.

3. Will you guys be gigging in June?
Ah a real question, no we as a band will be taking June off due to Cory being in hospital and Ste flying away on hols for a few weeks, we will be back in July.

4. Liposuction?
NOOOOOOO Cory is going in for an operation on his nose.

5. Third nipple?? Rehab?? He's the world first pregnant man??
Jesus...

So to summarise, Alcohol will be off in June but are open for gigs starting July - Tony will be around to answer any questions about gigs so feel free to email him, any questions relating to third nipples, rehab and/or sex changes will be ignored.
Alcohol
Tony Hearn, Stephen Cripwell & Cory Bettison
8/5/2004 - Alcohol record at Bandwagon Studios
Alcohol recorded an acoustic version of their usually fast song "I'm In Pain" today at Bandwagon Studios as part of the Elevation Acoustic Sessions. When the CD is finished the tracks will be played on radio Mansfield. Hopefully when we get a copy of the Alcohol track we will put it on the site for download.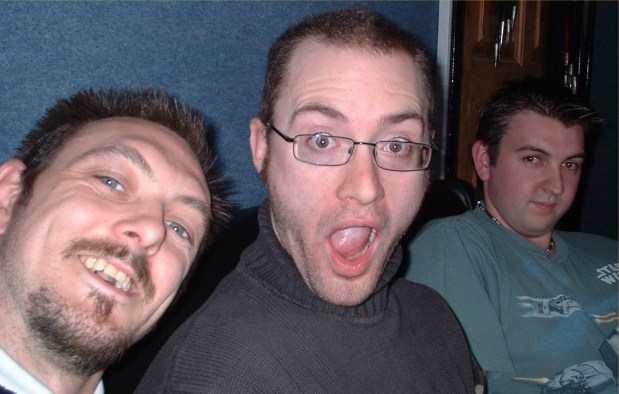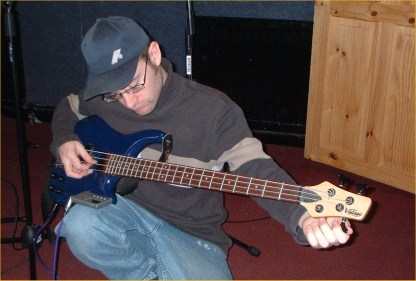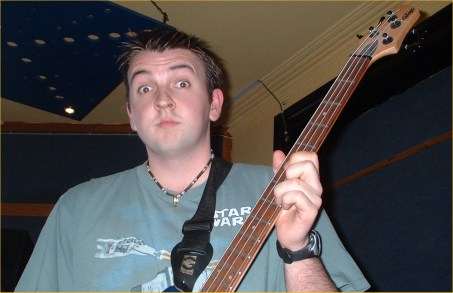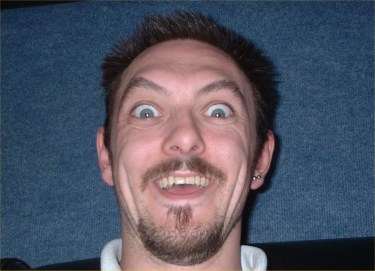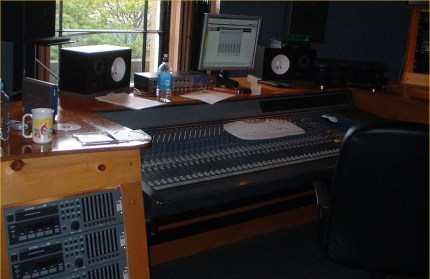 4/5/2004 - Alcohol play the Mill
Alcohol played their first gig of the year last night at the mill in Mansfield, thanks to everyone who came to support us. Gig review in the gig section along with pictures from the gig. Alcohol are now preparing for the acoustic recording on Saturday.
19/4/2004 - Gig news and studio time
As previously mentioned Alcohol can now confirm they are playing the Townmill in mansfield on the 3rd May 2004, see the gig section for more details. Alcohol are also booked into local studio Bandwagon (where they recorded their first ever studio recording back in 1996) as part of the local collective Elevations acoustic sessions, they will be recording on the 8th May 2004 - the most likely song they will be doing is an acoustic version of "I'm in pain". More news as it comes.
5/4/2004 - Alcohol join local music collective
Today Alcohol joined the local music collective, called Elevation, its a local society looking to promote the local music scene, Alcohol are only too happy to join and help out where they can. Alcohol also booked in a gig at the town mill in early May, more details to follow.
28/3/2004 - Alcohol record live recording
Alcohol record a 10 track live cd at Unit 5, including a few new songs (I'm Free and Break Down). The band are pleased with the sound and hope to do more recording this year.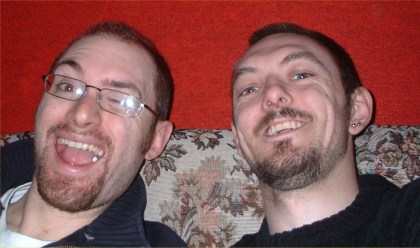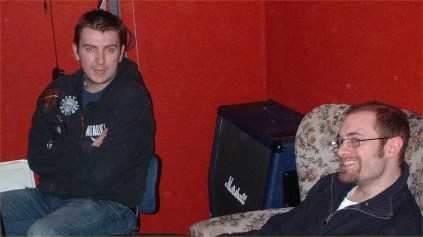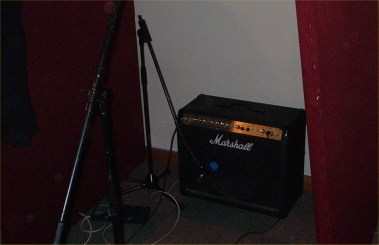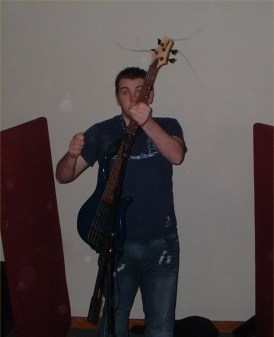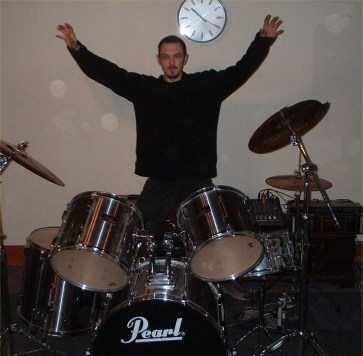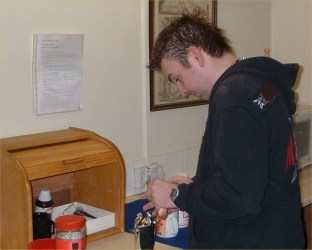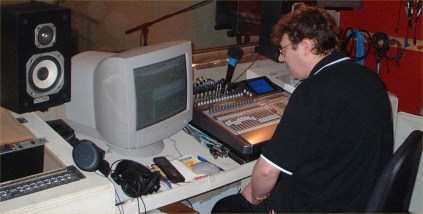 22/2/2004 - Alcohol resume rehersals
Alcohol started practising again today at Unit 5 studios in mansfield, new songs are on the way along with hopefully some recordings when the band get back up to speed. Alcohol are looking forward to some local gigs soon, more news as it comes.
5/1/2004 - Tony jets off
Alcohol guitarist Tony Hearn jetted off to Australia today after packing in his job at Serif where he worked for eight years. He is staying there for a month and will be back early Feb.
29/9/2003 - Alcohol play first gig in two years
Alcohol played their first gig in two years last night at the Town Mill, playing 2 new songs. See the gig section for more details.
30/7/2003 - Alcohol gear up with new material
Hello all, after a year break Alcohol have started writing new material and are currently getting ready to resume practising ready for gigs towards the end of the year. The boys can't wait to get into it all and are looking forward to seeing YOU later this year - BACK ON THE ROAD!!
The new songs are Love Drug, Don't Care, J.D and I'm In Pain, the band hope to record these songs sometime soon.
Alcohol
Tony Hearn, Stephen Cripwell and Cory Bettison.
21/6/2003 - Alcohol bassist ties the knot
Hi all, just a quick note to congratulate our bassist Stephen on his marriage to Sally Keeling. Congratulations mates it was a fantastic day (can't you get married again so we can have another party!!) and we look forward to seeing you after your honeymoon, and lets get some gigs done!!! (S Club 7s Reach will always be remembered as your wedding song!)
Here are some pics from the day!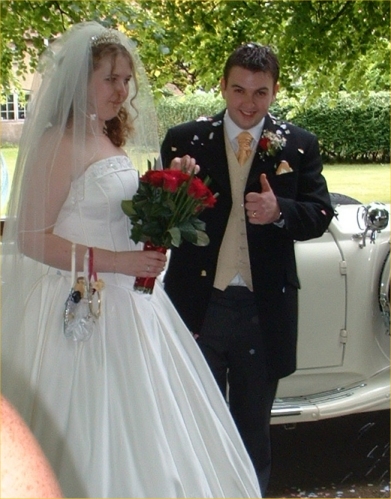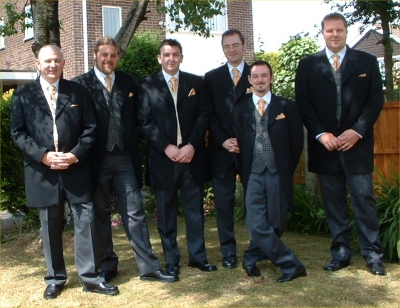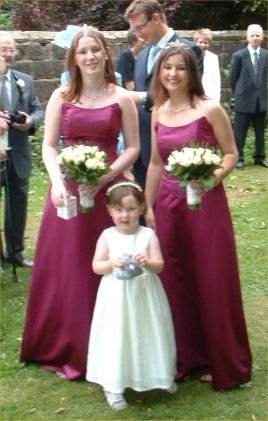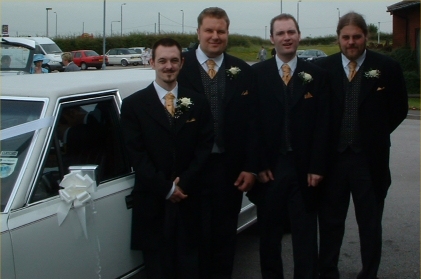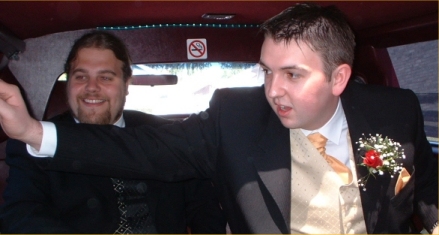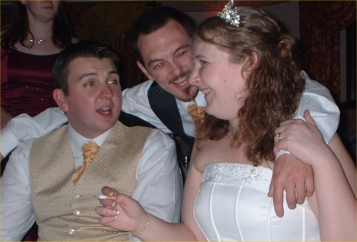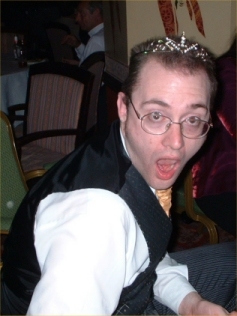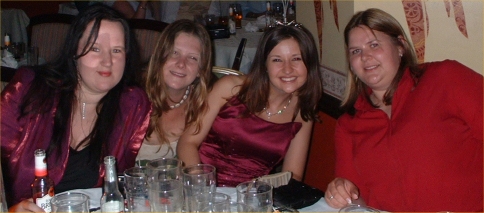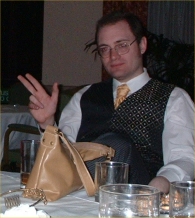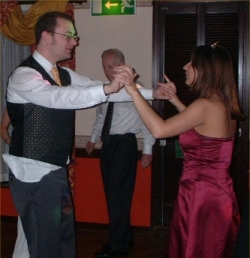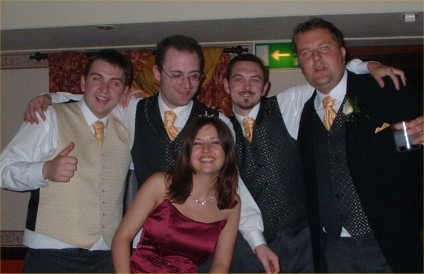 Thanks (and HELLLLOOOOO) to Gary, Matt, Lucy, Lynn, Mary, Jean, Trevor, Sally, Jasmine, and (of course) Jack Daniels.
Tony Hearn, Cory Bettison
24/5/2002 - Alcohol Drummer Goes Into "Hospital"
Today rumours on the internet of Alcohols drummer Cory Bettison and his secret visit to a clinic were denied by the band. Rumours ranged from him "going into rehab" to him "getting a third nipple removed". In an attempt to allay these rumours the band issued the following statement.
On Monday this week our drummer Cory had an operation in the local hospital and stayed there for a few days. The operation was mainly focused on the nasal area which explains the bandages and bruising around his nose, the rumours that these were caused by heavy drug use or by one of the band members hitting him are not true. Also Cory has never had, and never will have, a third nipple.
We hope that this official statement will lay waste to the rumours currently "doing the rounds", and we hope that you join us in wishing Cory a speedy recovery.
Alcohol
Tony Hearn, Stephen Cripwell and Cory Bettison.
5/4/2002 - New Picture Section
Hello there again, just a quick note to say that the Pictures section is now back up and running with 6 new picture categories, go ahead and check them out!
14/2/2002 - Progress Report
Hi there everyone, its been a good while between updates so here is what has been happening around the ol' Alcohol campfire of late.
As usual Alcohol took the month of December as a break to spend time with their loved ones (Jack Daniels, Vladivar and the boys). The new year as ever is hectic for alcohol, as each of the first three months of the year holds a birthday for one of the members:
Cory Bettison - January 15th
Tony Hearn - February 16th
Stephen Cripwell - March 25th

Alcohol have also been plagued with illness. But next week sees the reprisal of practises and the band have been working hard on their first music video for the song Useless. Over the next couple of months we hope to feature a making of page describing the process we went through to make the video and of course as soon as the video has been finished we will put it on the site for you to download and watch. The video will be available in Windows Media player and RealPlayer formats, as well as hopefully (bandwidth permitting) a full size high quality MPEG that you can download to your hard disk and watch as many times as you wish.
3/11/2001 - Alcohol Play Private Gig
Alcohol played a gig at The Towers for their friends 21st, please visit the gigography for more details. Samples will be available for download at the earliest oppertunity.
9/10/2001 - Bassist Injured In Road Traffic Accident
Bassist Stephen Cripwell suffered injurys today in a road traffic accident.It involved Stephen's Vauxhall Corsa and a Blue Ford Mondeo. The Mondeo decided to do a three point turn on a dual carriage way, which caused the talented goodlooking bass player to collide with the L reg mondeo. Since then Alcohol Bass Player Stephen Cripwell has suffered neck injuries and may never play the Bass again (A crowd cheer can be heard from all around). News report to follow tomorrow when Stephen gets a quote for the fucking damage for his car, as he is only third party fire and theft, as insurance is very expensive. Bass Player Stephen Cripwell at the time could not afford the money for Fully Comp. This has set Alcohol back for the run up to a private gig they have in November, but they've played on short notice before and played very well and I am sure they will do it again.
This is Stephen Cripwell reporting in pain from his bed in Mansfield
9/10/2001 - Web Site change
The website was updated today with a new navigation interface and two new pages, a news page and a projects page. Alcohol wanted some pages to let people know what is currently happening on the band front.